Restoration of the oven of the silkworm farm and the surrounding wall of the house with the Fondation du patrimoine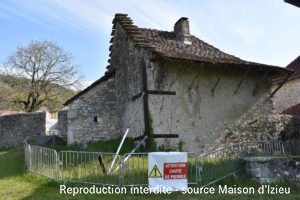 The oven of the silkworm farm of the Izieu children's memorial, which was used until the end of the 19th century to raise the silkworms and prepare the cocoons before reeling the silk threads, was not maintained for several decades and, unlike the other buildings of the classified site, was not renovated in the 1990s.
The restoration work of the oven will concern the consolidation of the masonry and the repair of the roof and a part of the frame.
The restoration of the orchard's surrounding wall will consist of removing the vegetation and purging the concrete elements and/or cement. The incomplete parts will be rebuilt with traditional masonry filled with natural whitewash.
The oven of the silkworm farm is an outbuilding located at the back of the house of Izieu, to the west of it. It is in the direct proximity of the building in which the silkworms were raised until the end of the 19th century.  The location of this oven is already stipulated on surveys dating from before the French Revolution. It was used to smother the silkworms in the cocoons to facilitate their reeling.
The surrounding wall of the orchard encircles a vast area to the west of the house, from the oven to the terrace overlooking the bed of the Rhône. It delimited an enclosed and secured space.
The Maison d'Izieu needs you to restore its heritage
As the entire garden is open to the public, this restoration has become unavoidable in order to ensure the safety of the site. The Maison d'Izieu would like to be able to further research the particular role of the oven in terms of its artisanal vocation, as a witness to the ancient activity of the silkworm farm.
To the south of the garden, on the section of wall to the west of the terrace, the restoration will allow the installation of rails to hang temporary exhibitions.
This project is already supported by the Ministry of Culture (Drac, Auvergne-Rhône-Alpes), the Auvergne-Rhône-Alpes region and the Fondation du patrimoine.