The children of the Maison d'Izieu
Miron Zlatin kept a list of the children at the home which he updated every month to justify the sums paid by the child welfare organisation – Union générale des Israélites de France [General Union for Jews in France] for looking after each child.
The first list is dated May 1943: it notes the arrival of 9 Jewish refugee children from Hérault, who were joined on 28 May by 5 other children.
Children were coming and going. In September 1943, the house welcomed up to 64 children at the same time.
Until January 1944, the date of the last list in the register kept by Miron Zlatin, it is attested that 105 children of all different ages stayed at the Izieu home. Some stayed a few weeks, others a few months. For them, the house was a temporary stopping place before they could join their families who had found shelter, before they could seek refuge in Switzerland or before they could be transferred to other homes or host families.
Before they arrived in Izieu, many had already been welcomed in other children's homes but they did not stay for long.
Depending on the circumstances for going to the home and their age, the children discovered the house in very different ways.
Alec Bergman (13 years old), who arrived in the summer with his two friends, Marcel and Coco Bulka, simply saw it as a summer camp. Samuel Pintel (6 years old), who had just been brutally separated from his mother during a roundup, felt isolated and thought he was the only Jewish child.
Some non-Jewish children went to the home in the summer of 1943, for social reasons or for a holiday away from the city and in the fresh air.
There were lots of different reasons for and means of leaving:
Hélène and Bernard Waysenson, or Alec Bergman, directly joined their families, who were able to find shelter and a safe haven.
Brothers, Edmond and Alfred Adler, were barely in Izieu for two weeks. They were then placed with host families in Haute-Savoie.
Henry Alexander was transferred to other child welfare houses.
Paul Niedermann, Georges Hirtz, Emil, Sara, Simon Szarf and Samuel Stern went to Switzerland at different times and by different means. They sought refuge there until the end of the war.
Of the 61 children who left the home before 6 April 1944, only one girl is on a list for being deported out of France. Her name was Violette Avidor and she was deported by convoy No. 74 on 20 May 1944.
NAMES OF THE CHILDREN WELCOMED TO THE IZIEU HOME FROM 1943 TO 1944
Georgy Halpern's journey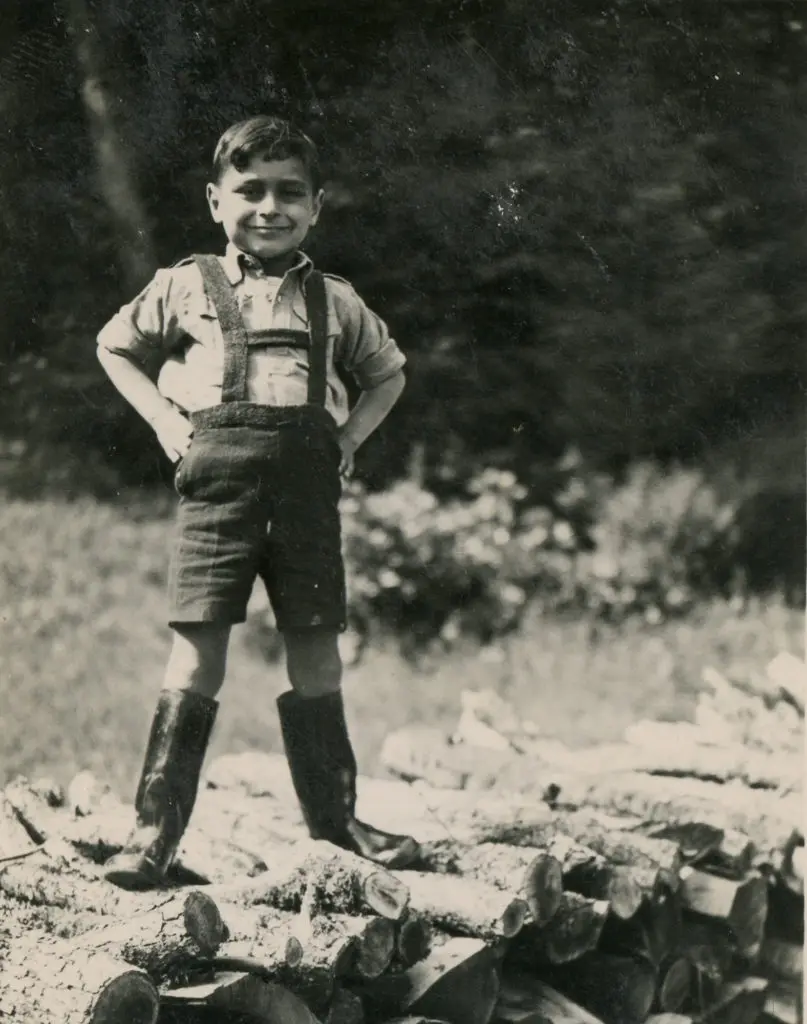 Georgy Halpern is one of the children of Izieu whose many letters and drawings have been preserved. His letters to his parents contain valuable information about daily life at the home.
Georges Halpern, known as Georgy, was born in Vienna (Austria) on 30 October 1935. He was the only child of Julius Halpern, a Polish dentist, and Seraphine Friedmann.
After 13 March 1938, when Austria became part of the Third Reich, 60,000 Austrian Jews sought refuge in France. Among them was the Halpern family.
Documents found at the Ain Departmental Archives show that Seraphine Halpern arrived in France on 1 January 1939.
As soon as the war broke out, German and Austrian Jews who had taken refuge in France were detained by the authorities of the Third Republic as "nationals of enemy countries".
Seraphine, who was ill, was sent to the Saint-Louis hospital in Perpignan, then to the Sanatorium de l'Espérance in Hauteville (Ain); Julius was one of tens of thousands of foreigners who formed part of the Foreign Workers' Groups.
The records of the Rivesaltes internment camp show that Julius, Seraphine and Georgy Halpern were detained there. Julius' file indicates that he entered the camp on 2 October 1942, in barrack 24 of Block K. No date appears on Seraphine's file.
Entrusted to the the child welfare organisation, Georgy was successively placed in several houses. His name appears on the 1940 list of the children's house at Chaumont Castle in Mainsat (Creuse). He later stayed in the same department at Masgelier castle, where he wrote to his mother on 31 July 1942.
According to the records of the Rivesaltes concentration camp, Georgy was detained there from 4 October 1942, two days after his father, and was released on 9 October 1942.
At the beginning of April 1943, he left the Maison de Campestre in Lodève (Hérault) to go to Montpellier and from there he was sent to the Izieu home (Ain) in May 1943.
Georgy probably arrived in Izieu on 18 May 1943 because he was noted to be there for 14 days that month on the register kept by Miron Zlatin. He was part of one of the first groups of children to attend the home.
At the beginning of the school year in October 1943, he was one of the primary pupils in Gabrielle Perrier's class.
While he was staying in Izieu, Georgy kept in touch with his parents, who often sent him letters and parcels. Georgy would reply to them and attach drawings to his letters. In his letters, he described daily life at the home, the meals, the activities and what he was doing in class.
At the round up on 6 April 1944, Georgy Halpern was deported from Drancy by convoy 71 on 13 April 1944 and killed in Auschwitz, along with the other children and adults from the home.
When France was liberated, his parents, who had survived, went looking for him. In 1948, an administrative document confirmed Georgy's death on 18 April at Auschwitz. Julius and Seraphine Halpern didn't want to believe he was dead. From Israel, where they had settled, they put up missing person notices in the press until 1982. In 1987, they were civil party plaintiffs in the Klaus Barbie trial in Lyon. They died in 1989.
Serge Klarsfeld collected the documents relating to Georgy – his letters, drawings and the photographs they had of him – and gave them to the Imperial War Museum in London.
Help us to keep the memorial running
Support the Maison d'Izieu