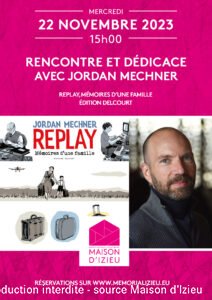 Mercredi 22 novembre à 15h
Programmeur et scénariste de jeux vidéo (Prince of Persia), Jordan Mechner viendra présenter sa bande-dessinée Replay, mémoires d'une famille (éd. Delcourt).
Récit sur trois générations, "Replay" raconte l'épopée familiale de Jordan Mechner, créateur du cultissime jeu vidéo "Prince of Persia". Une incroyable histoire entre exil, déracinement et reconstruction.
Franzi, 7 ans, est séparé de ses parents et devient réfugié dans la France occupée de 1940. Son père, autrichien menacé par le nazisme, a vécu la Première Guerre, connu le Front russe et doit fuir son pays pour l'Amérique. 80 ans plus tard, le fils de Franzi, Jordan Mechner, raconte leurs histoires grâce aux carnets tenus par chacun d'entre eux et y mêle son expatriation professionnelle des États-Unis en France.
Présentation de sa bande-dessinée à partir de 15h suivie d'une séance de dédicace.
En visite ce jour-là, 60 élèves du Lycée Condorcet de St Priest seront présents.